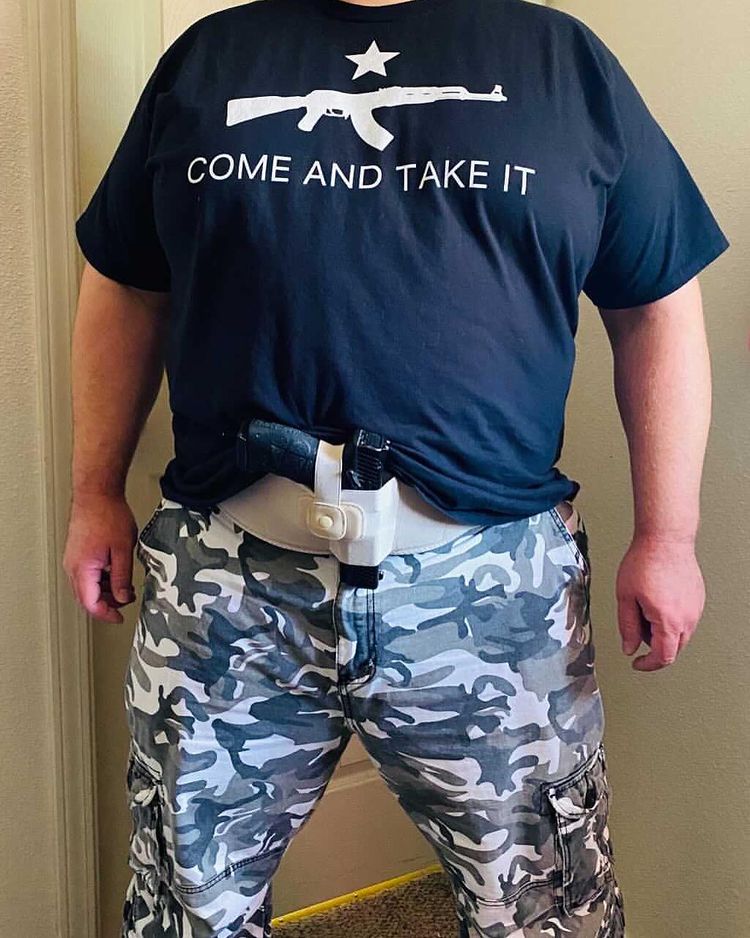 A holster is generally used for conceal carrying a firearm. Instead of putting your gun in your pants pocket or in the back of your jeans, you can use a belly band holster to carry your gun when it is not in use.
Looking for the best belly band holster for yourself isn't always easy, especially if you are a bigger guy. Don't worry, because you are in exactly the right place!
One of the biggest challenges that burly guys have when getting a belly band holster is the fit. Some belly band holster brands don't have very flexible sizing options. Others might be the right size, but don't fit well and are uncomfortable.
The major challenge fat guys experience a lot is getting a device that fits them perfectly. As regarding the use of belly band holster as force personnel or your job nature requires the use, you need one with perfect fitting. If you, or someone you know, is slightly on the larger side, trying to find the right belly band holster to fit comfortably can be difficult.

Understanding completely how hard it is to find the right belly band holster as a bigger guy, our team has put all of these challenges into consideration! Thus, we put together a list of how the BravoBelt overcomes these so you won't regret your investment.
Belly Band Holsters for Big Guys
Buying a holster system for your sidearm requires a lot of thought. Not only should you be satisfied, but you should also be able to save money in the long run. You wouldn't want to waste money and time replacing or repairing a low-quality holster, right?
Here are the main things bigger gun users seek so they can effectively conceal carry a badass weapon.
Fit and Comfort
Belly band holsters need to fit you comfortably, so you should look into the size and material.
The BravoBelt comes in two sizes, standard fit (up to 44" belly) and extra large (up to 55" belly), making it the perfect choice for those with bigger bodies. It is also made of CoolVent perforated neoprene, a breathable material that wraps comfortably on your waist.
Tactical neoprene is stretchy. Doing more than just fit your form, it can morph to the shape of nearly any sidearm in your collection. You are able to carry different sized handguns.That way, you don't have to spend on different holsters just to be able to conceal carry the sidearms you own!
You don't have to worry about being comfortable during your daily activities while carrying a sidearm. Going running? Doing chores? Working at the office? These won't be a problem at all. Because the holster is lightweight, you can go about your day avoiding any discomfort.
Accessibility
You shouldn't just be thinking about whether or not it fits you. One thing to worry about is if your weapon is accessible in the holster. Is it easy to pull out?
Your gun should be quick and easy to reach when you lift your shirt up. But some of the bigger belly guys might have reach issues when wearing belt holsters at certain positions.

Luckily, the BravoBelt allows a fast and efficient draw stroke. You can adjust it to any position that's better for you in terms of reach. It can be worn inside the waistband, outside the waistband, cross body, appendix (AIWB), 5 O'clock position (behind hip), small of the back, and even high up like a shoulder holster under your shirt. Just make sure you practice your draw strokes and reloads if it's not a position you're used to.
Reliability
Retention and security are all important factors in choosing a belly band holster. A holster that is unable to keep your gun in place puts both you and your loved ones at risk.
The Flex FlT design of the BravoBelt molds to your body providing maximum firearm retention. This keeps your firearm securely and comfortably positioned. The conceal carry belt also comes with a trigger guard system. We enhanced and reinforced the leather portion of the holster for ultimate personal protection, in addition to superior self-defense. Our goal was eliminating the possibility of a foreign object entering the trigger guard, to prevent accidental trigger discharge.
In case of emergencies, you can store more than just your piece in your belly band holster. It comes with dual auxiliary mag pouches, a large auxiliary pouch, and a detachable knife pouch. You can store ammunition, tactical flashlights, medical kits, utility knives, and more.
Concealability
Often, larger guys need to adjust their wardrobe because gun holsters make guns look too bulky on their upper bodies. That isn't the case with this belly band holster.
The BravoBelt's sleek design offers the ability to concealed carry anywhere you want to go without any hassles. You don't have to change the way you dress to stay discreet and ready to draw. It's perfectly fine for you to wear basketball shorts, sweats, PJs, scrubs and more while you pack heat.

You get to have a deep level of concealment and comfort at the same time.
The Bravo Bottomline
Finding a great belly band holster as a bigger guy can be difficult, but that shouldn't keep you from concealed carrying! The BravoBelt is the perfect choice to secure your weapons all day long on your dad bod. Click here to check out our belly band holsters in bigger sizes.