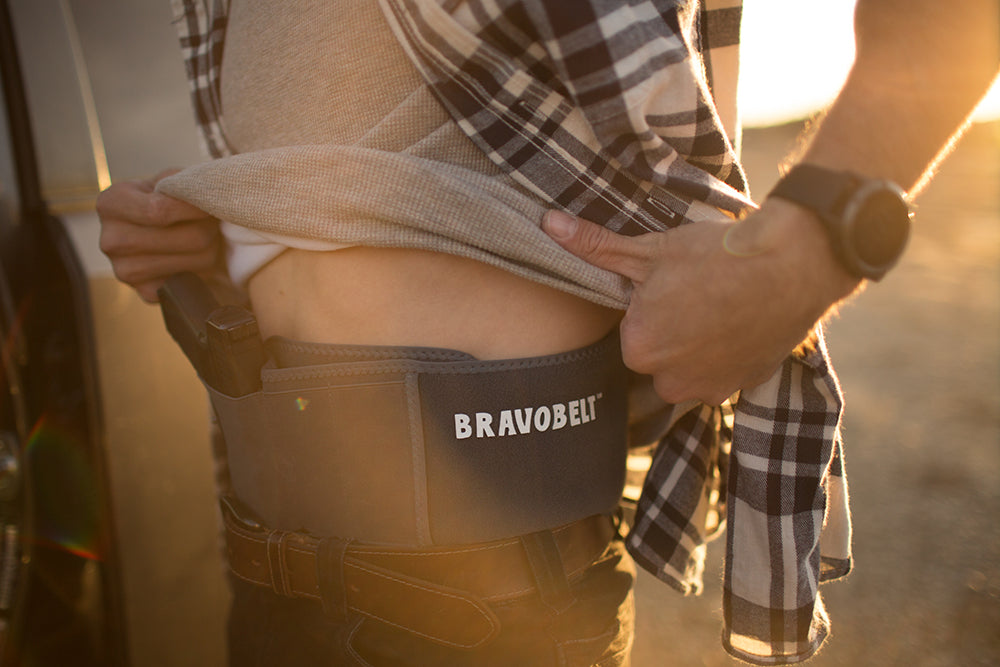 When carrying firearms in public, using a holster for concealed carry is a big necessity. With multiple types of holsters available, which one should you pick? Out of all the ones in the market, the most convenient one to own is the belly band holster. No need to strap it on, all you need is to wear it!
What exactly is a belly band holster?
A belly band holster is a type of concealed carry holster. It's made with simplicity and comfort as the top priorities. Unlike its traditional counterparts, the belly band holster can accommodate people who want to wear it with different clothing types. It's also less restrictive in terms of mobility. You can do activities with high movement without worrying about it getting dislodged. People who wear clothing such as sports suits and scrubs will benefit the best with this kind of holster.
Why are people choosing to wear belly band holsters?
There is a major draw that separates the belly band holster from other types of holsters. Versatility! Most traditional holsters require you to wear specific articles of clothing, such as jeans. Gym shorts, sweatpants, spandex skirts or other similar types of clothing don't have belt loops for traditional holsters and belts. A belly band holster does not restrict you like this. Just strap and secure, no matter what you wear!
Its sleek and snug design makes it a more comfortable way to conceal weapons and tools. You'll be able to conceal carry while you're relaxing. Or doing chores at home! This is also perfect for athletes who usually wear loose clothing or sportswear, or hospital staff who wear scrubs for everyday work.
How can you wear your belly band holster?
The belly
Of course, we can wear the belly band holster around the stomach. After all, it is named a "belly" band holster. Wrap around the holster to your stomach and you can reach your weapon quickly if needed. Wearing it this way is the perfect starting point for people new to belly band holsters.
Around the chest
Another way to wear your holsters is around the chest area. This is perfect for people who wear jackets and overcoats. The belly band holster fits perfectly and is easily adjustable depending on your preferred drawing hand. Women may have a hard time with this setup, however, so it might be better to choose a different wear method.
Under the arms
This method gives you more space to carry more weapons or ammo without compromising comfort.
Around the hips
Another way to fit your holster (and one of the best ones for women) is around the hips. This position is perfect for those who love wearing long dresses and skirts. It is also great for joggers, as the holster gets maximum support when running. In case something happens, you can easily escape or go after someone without worrying that your belly band holster will get misaligned or fall off.
When can you wear your belly band holster?
Technically, you can wear your belly band holster anytime. To prove the flexibility of belly band holsters, here are some examples.
When exercising
The belly band holster is both comfortable and non-clothing restrictive. You can perfectly wear it when jogging outside or exercising in the gym. Your holster will not be a burden to you when moving around, and it can provide you protection in case someone attacks you while you work out.
When at work
There are multiple reports of robbers and other criminals hitting up stores and establishments. In the unfortunate event that someone raids your establishment while you are on duty, you are well prepared to protect yourself.
When at home
While your home is most probably the safest area you can be, you will never know when burglars decide to sneak in. Wearing your holster at home helps you get used to it. Plus, it can also instill the value of consistency.
When going outside
Whether it's shopping, doing errands, picking your child up from school, or simply going out to have a good time, safety is always a priority.
Whatever the situation, wherever you go, whatever you do, a belly band holster provides maximum comfort and flexibility while concealed carrying. With the holiday season, BravoBelt is more affordable than ever, thanks to our holi-deals! Purchase BravoBelt belly band holster on sale when you use the codeSANTA15at checkout to get 15% off! This sale ends December 25, 2021.